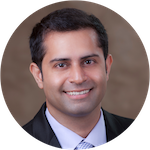 Amit Mirchandani, MD
Dr. Mirchandani is a physician trained at Rhodes College (Memphis, TN), University of Tennessee College of Medicine, Yale University (Anesthesiology), Rush University (Pain Management)
Dr. Amit Mirchandani is a graduate of the University of Tennessee College of Medicine. He continued his training at Yale University in New Haven, CT where he completed his Anesthesiology residency. He further specialized in Interventional Pain Management by completing an ACGME accredited fellowship at Rush University in Chicago, IL. He is double board certified in both Anesthesiology & Pain Management.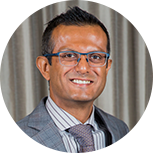 Jayen Patel, MD - Consultant
Dr. Patel is a graduate of Boston University, School of Medicine.  He was awarded his MD after completing his pre-clinical education with the faculty of Boston University and clinical rotations at Boston Medical Center.  In his final year there, he expanded his clinical activities to include medical missions in Kenya and Peru.
Dr. Patel continued his training at Mt Sinai School of Medicine in Manhattan, NY where he completed a year of General Surgery training.  He furthered his specialization in Anesthesiology at New York University and is Board Certified in Anesthesiology through the American Board of Anesthesiology.  Dr. Patel's specific interests lie in Ultrasound guided nerve blocks, pain management, neuromodulation and headache treatments. He is one of very few physicians that performs neuromodulation implants for headaches and chronic migraines.
Dr. Patel started his professional career at Boston University where he earned a degree as Bachelor of Arts in Biology—Summa Cum Laude.  For his research in mammalian neuroendocrinology, he was awarded the distinguished Howard Hughes fellowship award for independent research which led to a senior thesis concerning the hormonal effects on the brain that predict behavior.  That research awarded Dr. Patel a distinction in biological Sciences by Boston University and was named class speaker.
Dr. Patel is a native of Kenya and is at ease speaking Kiswahili and Gujarati.  His interests beyond medicine lie in photography, painting, scuba diving, golf and travel.

Voted Best Three Pain Management Doctors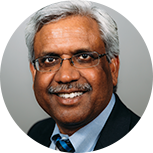 Satyendra Arya, MD
Dr. Satyendra Arya is a Diagnostic Radiology specialist. He attended and graduated from medical school in 1989 from All India Institute of Medical Sciences. Dr. Arya has over 29 years of diverse experience, specifically in Diagnostic Radiology. Dr. Arya's Radiology Residency was completed at Integris Baptist Medical Center. He has practiced in Texas, Kentucky, and Oklahoma over his 29 years as a physician.